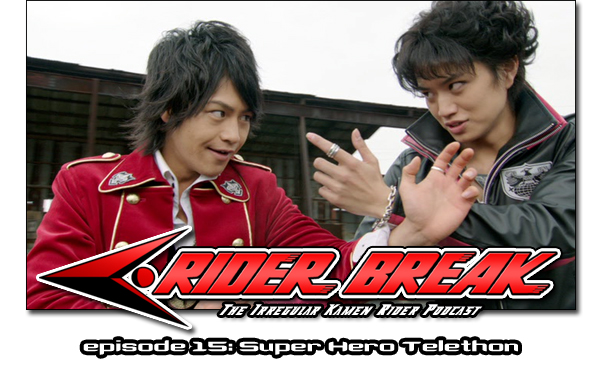 My "live" first reaction to the new footage of
Kamen Rider Gaim
! And while waiting for that to air, I watched
Super Hero Taisen
(with commercial interruptions) and pondered the colors of good and evil, the true nature of insanity, and the timeless beauty that dwells within everything.
Also: Sh
ô
tar
ô
and Gentar
ô
feel each other up.
In This Episode:
•
Rider Break! is back in less than a month as I woke up for a 6 AM "live" recording of the
Kamen Rider Gaim
trailer, preceded by
Super Hero Taisen
, a movie I'm probably much kinder on than most.
•
Spoilers
that I keep forgetting to mention until it's too late, including
Super Hero Taisen
(admittedly, it would be hard
not
to spoil it) its sequel (nothing too major, but I do bring it up) numerous other Rider movies (many of which are my favorites!) and
Ryuki
(spoiler: somebody dies in
Ryuki
.)
Episodes Notes:
•
Music used includes:
"Music for the Funeral of Queen Mary" (excerpt) Yup, I'm stretching that far for a joke.
"Let's Go!! Rider Kick 2006" by Hiroshi Fujioka (excerpt)
Get it on amazon.co.jp
•
For the third episode in a row, I get sick, though only by the end. It's the rain, man.
•
Speaking of the rain, you can hear it in the background for most of the podcast. The sound levels on this episode were also a bit wacky since I had turned the whole table so I could face the TV, and the result is that I think the microphone was closer to me than usual. I need to invest in a good stand next!
•
I mention somewhere in there about the Q & A episode. That's coming up next, and I'll probably get to it today or tomorrow depending on how the vocal chords feel. Thanks for waiting!
•
Mentioned in this episode (to explain why I keep repeating myself so much):
HJU Radio
The Fwooshcast
Timestamps:
00:00 - Watch those speakers!
01:28:00 - If you want to skip all the other nonsense and just get right to where the Kamen Rider Gaim trailer comes on, start here.
01:31:31 - Second-longest episode yet!?
•
Thanks for listening!

Get The Episode