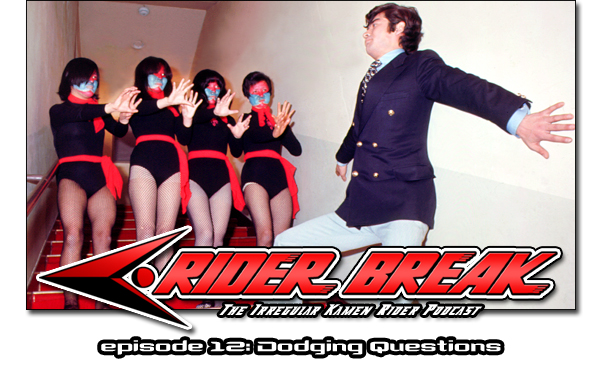 A nearly 2-hour-long podcast recorded across two years, featuring one guy talking about speculative alternate universes, bromances, and his own obscure fanfiction.
CAN. YOU. SURVIVE?
This episode was originally released on 1/1/2013
In This Episode:
•
You asked the questions, Igadevil fails to answer!
•
Lots of spoilers
. Expect discussion on the endings of
Ryuki
(both of them) &
Blade
,
W
,
OOO
, various Rider movies,
Stronger
,
Kikaider-01
,
Akumaizer-3
... it's basically the most new-fan-unfriendly episode ever! Basically, make sure you either watched
Ryuki
or don't care about spoilers before listening to this.
•
I also finally talk about the "S" word. And by "early 2013" I mean "summer".
Episodes Notes:
•
Music used includes:
"Let's Go!! Rider Kick 2006" by Hiroshi Fujioka
"Lonely Kamen Rider" from the Playstation 1 Kamen Rider game.
Various sound effects from
Kamen Rider: Genealogy of Justice
.
•
This is the longest episode of Rider Break! yet, clocking in at just under 2 hours. I'll probably stick with the under-an-hour format most of the time, and only go this long if it's a special occasion or there's just that much to talk about. And I did have plenty to talk about this time!
•
This episode took ages to put together, but was a load of fun to do. Obviously being busy around New Year's meant that half of it was technically recorded in 2013 (when most of you will be listening to it) though I still pretend it's 2012... at least, until I start saying stuff like "later this year". You know what I mean. I'm considering it the last 2012 episode of Rider Break! and the
next episode
episode after the next one will debut a few... changes. Maybe. One of them will be, eventually, a new microphone!
•
Other stuff mentioned in this episode:
The art of Frobman
Pez's Sweet Nothings
Rising Sun Tokucast
HJU Radio
(not really, but it may as well have been)
•
BIG thanks to the following for submitting questions:
frobman, whotookwittyurlihateyou, yuioshi48, rising7, godzilla606, bookishdelight, terthna, akuulgai, cap-matches-color, Imani Marks, Liam Morgan, Wesley Rea, Waleed Al-Haddad,KamenRiderPEZ, LarzArz, InuiTakumi23, jahijohnson, Irregularcog, KRSRSimsLifeAKB, MatiRosero, TokuDeka, & Indra Giri.
Sorry if I forgot anybody, and sorry to everyone whose names I horribly mispronounced. I know how you feel. Listen to the first HJU Radio I was on!
Timestamps:
00:00 - Speakers blown!
02:09 - Questions from tumblr
45:27 - Questions from Facebook
01:08:18 - Questions from twitter
01: 51: 13 - The last question, and I tried to keep it brief. Believe me, I can go on about that at great length.
01:56:24 - It's over! Rider Break! will return.
•
Thanks for listening!
Get The Episode