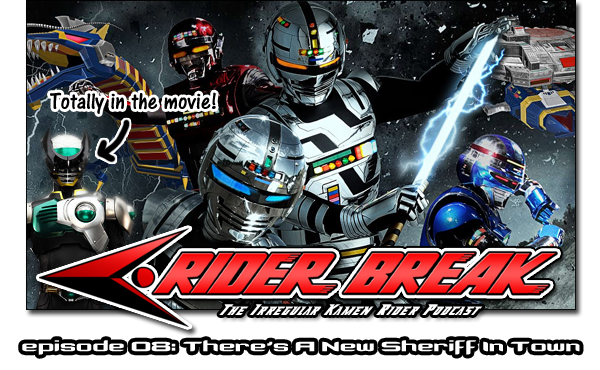 Rider Break! returns (again) as Igadevil checks out the new
Space Sheriff Gavan
movie. But only because Date is in it, I swear.
Warning! There be spoilers ahead.
This episode was originally released on 10/21/2012
In This Episode:
•
It's a review of
Space Sheriff Gavan: THE MOVIE
by someone who confesses to be little more than a "casual fan" of the source material. What do you think is going to happen?
•
I do my best to tell you what I think of the new
Gavan
movie for about half an hour, then basically give up because I run out of ways to say "I liked it" and "this was cool".
•
Rider Break! completely fails this week because it's about a show that isn't Kamen Rider.
Episodes Notes:
•
Music used includes:
A bunch of stuff that isn't Kamen Rider.
Buy the soundtrack
!
•
This is the first episode of Rider Break! in over a month, though it won't be the last. It also won't be the last time I talk about a just-released movie, though I promise next week will be slightly more interesting in that it's about a franchise I have stronger feelings about. As promised, following that (episode 10, finally) will be back to the standard topics of Kamen Rider, Kamen Rider and more Kamen Rider.
•
I joke, but I did try to squeeze in as many Kamen Rider references as I could despite talking about something outside my usual comfort zone.
•
After recording this, I went online to see what others were saying about the movie on Japanese sites. Sure enough, it's getting one helluva a mixed reaction! That's what I mean about "wondering what the hardcore Metal Hero fans will think". I still enjoyed it, but at the end of the day I'll freely admit I'm not the target audience on this one (and even less so than usual.)
Timestamps:
00:00 - Speaker-blowing, eardrum-destroying fun commences!
01:24 - Actual talking starts
39:35 - "As always"? What was I thinking?
40:06 - Shortest. Episode. Ever!
•
As always, let me know what topics you'd like to hear in future episodes, and I'll put them on the roster!
•
Thanks for listening!
Get The Episode
Download here
Rider Break! on iTunes

Or listen here: