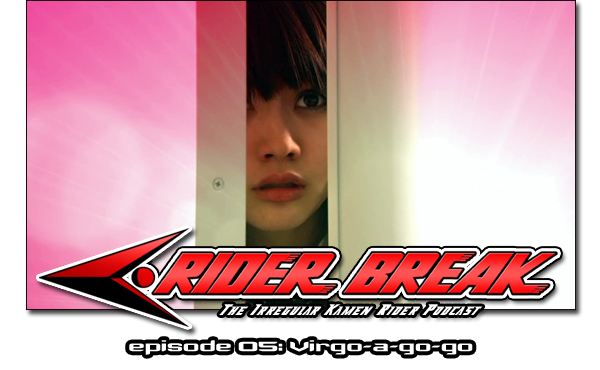 Rider Break! returns (yet again) as Igadevil weighs in on Wizard, bumbles through Fourze and fails to give an answer shorter than 150 words to any question.
This episode was originally released on 7/3/2012


In This Episode:
•
Rider Break! returns after yet another extended leave of absence!
•
Kamen Rider Wizard has been revealed! Hear about what I think so far (it's not much.)
•
Some brief thoughts on
Kamen Rider Fourze
episodes 33~40!
•
The answers(?) to a couple of loyal listeners' questions!
•
And a big
SPOILER WARNING!
since this episode goes into the details of Virgo's true identity,
V3
and
Blade
's endings, huge swaths of X-Rider, and who knows what else.

Episodes Notes:
•
Music used includes:
"Let's Go!! Rider Kick 2006" by Fujioka Hiroshi
"Cosmic Mind" by Astronauts
"BGM track 15. Astro Switch" by Shûhei Naruse
•
This episode was recorded the week before its original release, so the statement about "magazines that aren't out yet" was (at the time) no longer true. Also,
Fourze
41 (where EVERYTHING CHANGES) hadn't aired yet. Listener discretion is advised.
•
I mention a few other podcasts and people on this episode (hint hint) Give them a visit:
Toku Strike
The Fwooshcast
Let's Get Ready to POD (currently on hiatus)
HJU Radio
Rising Sun TokuCast
Low Visibility
(I didn't actually mention them by name yet, but check them out anyway!)
And see some of Sean's great Rider art
here
,
here
and
here
.
•
I should also point out that after the fact, I realized I goofed up on some dating. As the battle for a new Creation King happens every 5,000 years, the Undead would have all missed the boat, so their fight was just about what species gets to dominate the Earth and someday invent Tang. However the
Agito
guys could still manage it, since we still don't know when exactly they first duke it out.
Also, I forgot about my main reason why an
Agito-Blade
connection totally works for me: "God" in
Agito
isn't even around until he's brought back into being by unlocking the O-Parts, and the original is supposed to have vanished/died out way back, so a lot could happen in that time (including the
BLACK, Blade, Kiva
and
OOO
-related history stuff.) Even if the Power of Darkness/Overlord made humanity, in his absence I could see something like the Sealing Stone coming in and metaphorically questioning if humans really deserve to rule the planet (since the Battle Fight was supposed to be initiated by the will of all species or something like that.)
Not sure when
Kuuga
fits in there, since the "Super Ancient Times" dating is pretty vague, but I can buy that it comes before everything else and
Kuuga
is chronologically the oldest Rider, a result of an unseen adventure where
Kabuto/Den-O/Kiva/Decade
took Rider 1 back in time to inspire the Linto and... you know what? Maybe we should just say "Wizard did it" and leave it at that.
Timestamps:
00:00 - I keep telling you about your speakers...
01:06 - Boring real-life draaaaaaaaaaaaama. No actually, it's great news, but like I said I'm taking it slow. The self-indulgent freak-out will be saved for another day.
03:31 -
Kamen Rider Wizard
talk!
13:58 -
Kamen Rider Fourze
talk!
30:31 - Break time!
32:26 - Listener Questions!
01:06-35 - A very, very long tangent about my favorite Rider villains.
01:16:41 - Yeah, that was totally me. Totally.
01:24:25 - No joke, I have this set as what plays on my computer's alarm clock. Coincidentally, it is my favorite piece of music from the series.
01:26:00 - It's over at last!
•
As always, let me know what topics you'd like to hear in future episodes, and I'll put them on the roster!
•
Thanks for listening!
Get The Episode
Download here
Rider Break! on iTunes
Or listen here: