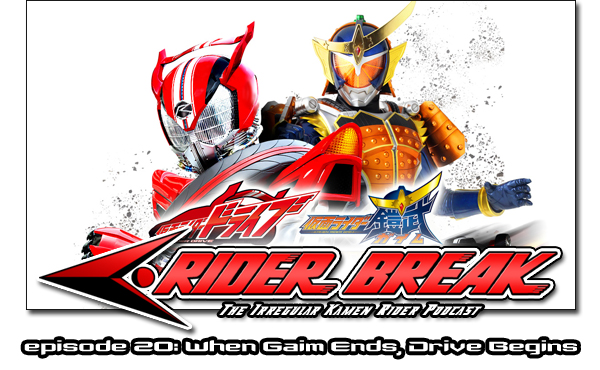 Kamen Rider Drive
is just hours away, and
Kamen Rider Gaim
has had
46
47 weeks (plus a few weekends off for golf, Super Sentai crossovers, etc.) to tell a tale of Armored Riders warring all so that a DJ can make one of them into a space god to save Christmas. Or something. I wasn't really paying much attention, but I did like that Bravo fella.
Fortunately this episode I'm joined by Craig & Nikki from
The Repacked Podcast
to figure all this stuff out!
In This Episode:
•
Rider Break! is back. Hey, it was quicker than last time. There's several episodes being edited right now (
Kikaider REBOOT
, that Damned Q&A, and yet
another
one that isn't about Kamen Rider at all!) but very likely the next one will be about
Kamen Rider Drive
episode 1 anyway. But hey, that's a lot of Rider Breakage on the way!
•
Yes, actual human contact! Craig makes his return, and our mutual pal Nikki also chimes in as we discuss general thoughts on the most-recently-finished and soon-to-air Kamen Rider series. I still do a lot of the talking (per their choice) but it's always good to get some more voices in the mix. You can hear all three of us talk toys every week over at
The Repacked Podcast
.
Episodes Notes:
•
Music used includes:
"Let's Go!! Rider Kick 2006" by Hiroshi Fujioka (excerpt)
Get it on amazon.co.jp
"JUST LIVE MORE" by Shōnan no Kaze (TV Size)
Get it on amazon.co.jp
Sound & music from the Kamen Rider Drive deluxe belt ad
•
As mentioned, this episode was recorded Thursday, October 2nd. More news, reviews & bits of juicy info have been released since then (such as the title of the next Movie War.) During recording we used the
Kamen Rider Drive tumblr
which compiled all the scans together nicely, as well as
The Tokusatsu Network
for information (they've got a great interview with Riku Sanjo that just went up not long after we recorded this.) The Drive toy ad mentioned
can be found here
(At least as of October 2014.)
•
We mention
HJU Radio
here and there; if you want a more comprehensive analysis of
Gaim
that'll probably be the place to hear it (and probably not from me, because I won't have gotten a chance to rewatch the whole show this time!) This episode's really more of a general thoughts type deal, very free-flowing (which is why we jump around from one show to the other near the end.)
•
I think there are two points where I started to form an idea, then went off on a tangent and never returned. One is about episode 46, and if that had been the actual ending. What I was going to say was that I'd still probably be okay with it. But for me, if 46 is the "Gaim" ending, episode 47 feels like the "Kamen Rider" ending for the show (if that makes any sense), and it brings 46 up a little more in my book. Now the penultimate chapter is more like the close of Kōta/Kaito/Mai/Sagara's story, with a 'final battle' that is more bittersweet in nature. Whereas 47 wraps up (most) everyone else, and has that Hell Yeah Rider Final Battle in it. They're two parts of a whole to me.
The other was Marika/Yoko, who I don't think I really gave a clear answer on (she is
probably
my favorite character in the show, but a lot of that is down to liking the actress. I think Minami Tsukui could lead a series, she's that good.) What I'm trying to get at is that while her ultimate fate doesn't spoil the whole show (for me; but I understand if it does for you) it is one of the parts I'm having the hardest time figuring out. I'd love to know if Urobuchi or anybody commented on it.
•
Yes, I know that every non-Rider badass rival villain reminds me of Apollo Geist. That's pretty much down to Apollo Geist being that great and memorable of a character. I like him about as much as I like Doctor Shinigami/Ikadevil, and I like Doctor Shinigami/Ikadevil more than is probably healthy.
•
My big thanks to Craig for soldiering it out (he was coming off of a cold) and Nikki as well (who had to jump away from the computer a couple times.) They will return some day. And they're not the only ones! I'm always looking for interesting new voices to come on and talk all things Rider or Tokusatsu. At least, once I get the current crop of episodes squared away.
•
And yes, that Q&A episode is STILL actually happening!
Timestamps:
00:00 - Watch those speakers!
Around 35 minutes in -
Drive
talk begins (and eventually returns to
Gaim
.)
01:32:55 - The end! Man, that Kamen Rider Drive just can't wait to start, can he?
•
Thanks for listening!

Get The Episode