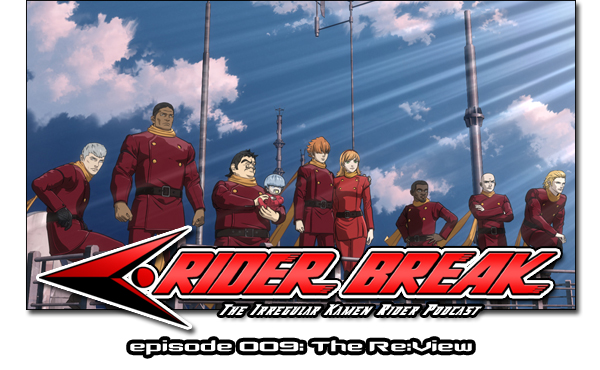 Joe and the gang are back for the brand-new movie
009 RE:CYBORG
. Can they come together to save the world once more from the vaguely-defined threat of misleading MIBS, an enigmatic "voice", and allegiance-confused cybernetic stormtroopers? Or do they even need to?
Warning! Spoilers ahead if anyone actually cares!
This episode was originally released on 10/28/2012
In This Episode:
•
A "review" of
009 RE:CYBORG
•
As opposed to, you know, Kamen Rider.
•
Seriously, next episode better have a lot of Kamen Rider in it!


Episodes Notes:
•
Music used includes:
"Cyborg 009" (Excerpt) by Tokyo Meistersinger
"genesis of next" (TV Size) by globe
•
Not much to say here, other than that yes, next episode will be all Rider, all the time, as will 99.9% of all future episodes. The next movie review, in a little over a month, will be a Kamen Rider movie no less! Huzzah!
•
Yes, I know that there's a tie-in comic that's also just come out, I should probably check it out. If you're interested in reading the original
Cyborg 009
comic, not to mention other great Ishinomori comics, make sure you
check this out
!
Timestamps:
00:00 - One more time: Make sure your volume isn't up too high!
00:34 - Actual talking starts.
07:00 - From this point onward, spoilers are present.
43:47 - You don't know how long I've waited for a chance to do this.
46:54 - My favorite line from the episode (it is a huge spoiler though.)
56:21 - Conclusion (God's War)
•
As always, let me know what topics you'd like to hear in future episodes, and I'll put them on the roster!
•
Thanks for listening!
Get The Episode
Download here
Rider Break! on iTunes
Or listen here: